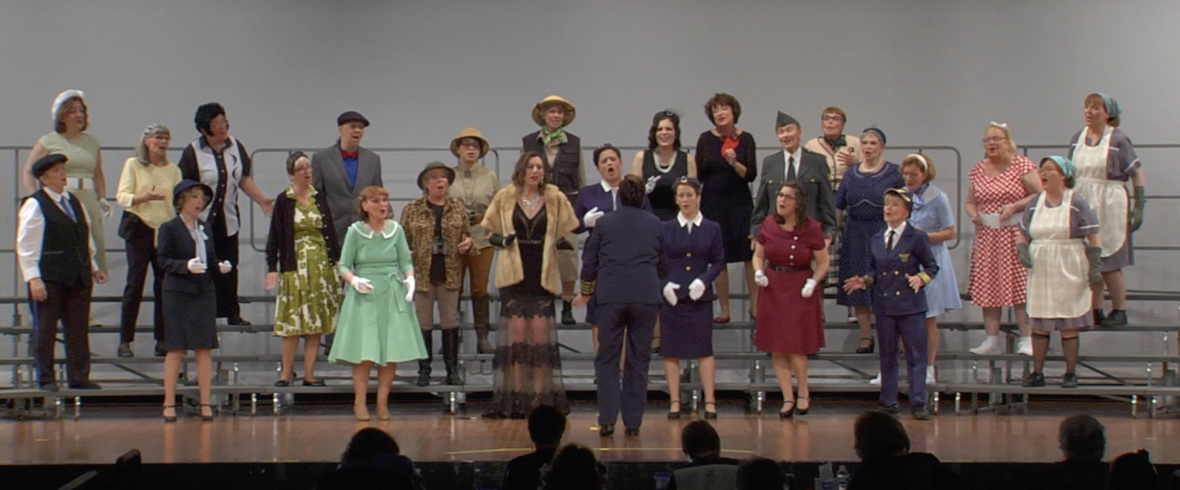 Saratoga Soundtrack Chorus Journeys to Another Medal
For Immediate Press Release:
Saratoga Soundtrack Chorus Journeys to Another Medal
On Saturday, April 22nd, Saratoga Soundtrack Chorus won third place in Division A (small chorus-containing 12-30 singing members) at the Greater New York/New Jersey Region 15 Annual Convention and Competition, Sweet Adelines International held in Albany.
The chorus took the audience on a journey to an airport setting from the past. Twenty-five amazing singers and one awesome director crossed the stage dressed in 1950's attire depicting excited passengers and airport personnel. The parade of interesting characters showcased a series of entertaining scenes while dreaming of traveling to destinations near and far. Under the direction of Jennifer Hunter, the chorus performed a musical package opening with a Larry Wright arrangement of the fun-filled uptune, "Let's Get Away From It All," written by Matt Dennis and Tom Adair. The second song was the passionate ballad, "You Belong To Me," written by Pee Wee King, Redd Stewart, and Chilton Price. This vintage song was arranged by Aaron Dale.
Saratoga Soundtrack Chorus is an award winning women's a cappella group, singing four-part harmony. Performing everything from classics and jazz to ballads and contemporary songs the chorus has been entertaining since 2008. Their musical performance is visually enhanced through characterization and choreography. Through the years this musical group has delighted local audiences at many popular events and venues such as: Lord's Acre Fair, Saratoga Race Course, and First Night.
Saratoga Soundtrack Chorus is a not-for-profit chartered chorus of Sweet Adelines International, a worldwide organization of women singers committed to advancing the musical art form of barbershop harmony through education and performance.
Saratoga Soundtrack Chorus rehearses Monday nights at the Knights of Columbus on Pine Rd. in Saratoga Springs. If you love singing and are interested in auditioning to become a member, please visit the website https://www.saratogasoundtrack.org
or Facebook page-https://facebook.com/SaratogaSoundtrack.