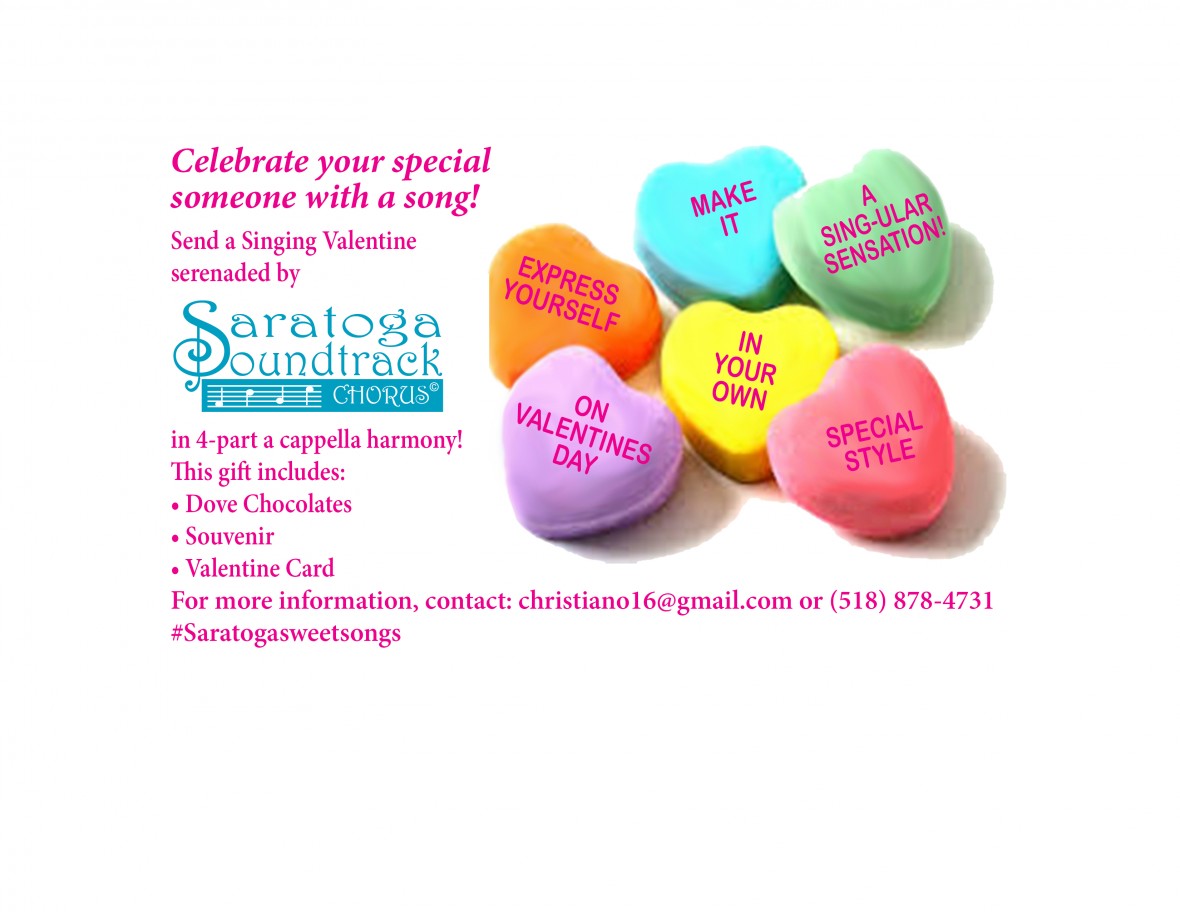 Singing Valentines
For Immediate Release: 
Contact: [email protected] or (518) 878-4731
In 1933, George P. Oslin, an executive at Western Union, had the foresight to create the singing telegram, in order to bring happy news to recipients, as most telegrams brought the sad news of a deceased loved one. 
In 2017, Saratoga Soundtrack Chorus will be honoring that tradition of a happy message of love for Valentine's Day in their new fundraiser, Singing Valentines. Celebrate your special someone  with a song serenaded by Saratoga Soundtrack Chorus in 4-part a cappella harmony! This gift includes:
• Dove Chocolates
• Souvenir Heart Button 
• Valentine Card
For more information, contact: [email protected] or (518) 878-4731 
#Saratogasweetsongs
Follow us on facebook, twitter, instagram and youtube!
Saratoga Soundtrack Chorus is an award winning women's a cappella group, singing four-part harmony. Performing everything from standards and jazz to ballads and contemporary songs the chorus has been entertaining under the direction of the talented composer/arranger/director Nancy Faddegon since 2008. Their musical performance is visually enhanced through characterization and choreography. Through the years, this musical group has delighted local audiences at many popular events and venues: Congress Park, Saratoga Race Course, and First Night. 
Saratoga Soundtrack Chorus is a not-for-profit chartered chorus of Sweet Adelines International, a worldwide organization of women singers committed to advancing the musical art form of barbershop harmony through education and performance. 
Saratoga Soundtrack Chorus rehearses Monday nights at the Knights of Columbus on Pine Rd. in Saratoga Springs. For more information. visit the website https://www.saratogasoundtrack.org/singingvalentines or Facebook page -https://www.facebook.com/SaratogaSoundtrack.
---