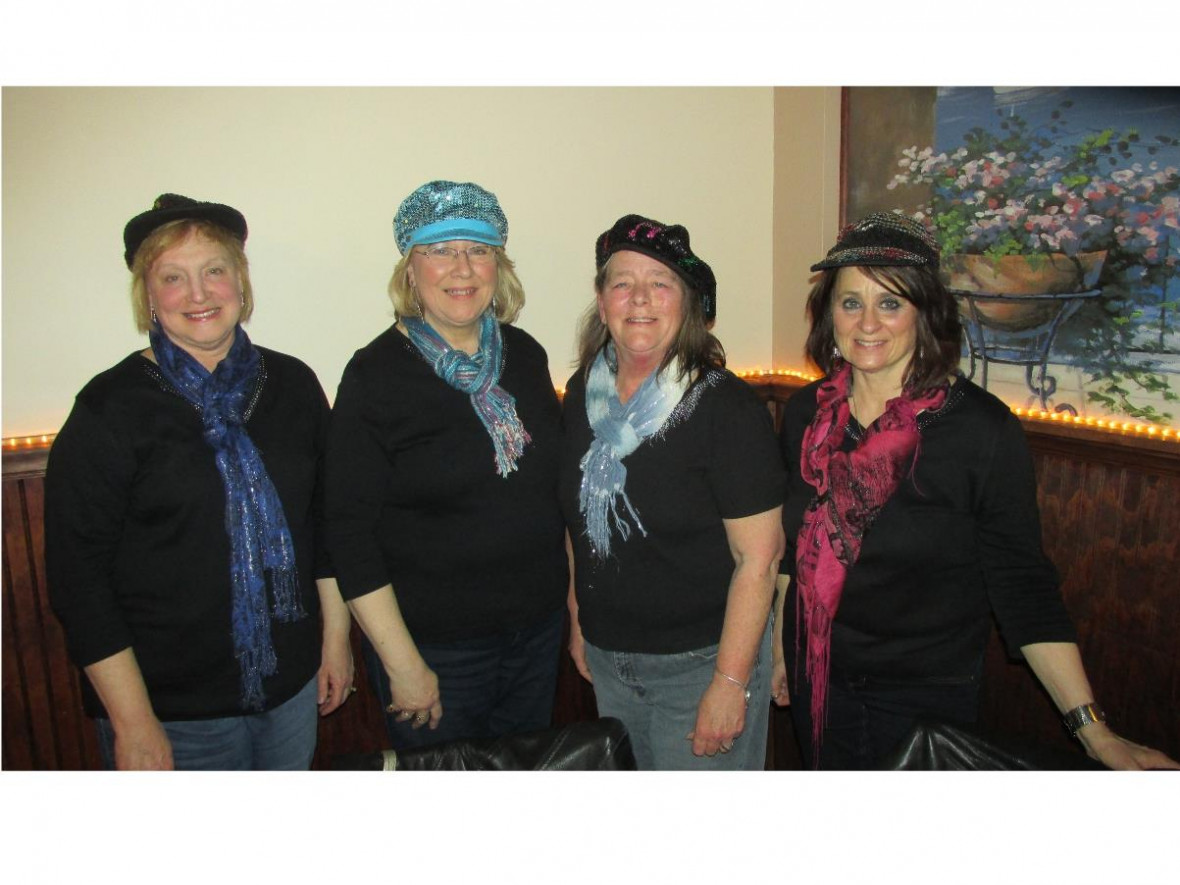 Mad Caps
Saratoga Soundtrack and Capitaland Chorus
Mad Caps - A hat for every song…still looking for a song for every hat!
Mad Caps love to learn new music and match it up to our hats (or buy new ones to fit the song). We have great fun rehearsing (and snacking) together, but we especially love to perform together!  We have quite a large repertoire and would love to perform for your event!
About Us
Marilyn Semerad started her barbershop life in 2002 as a lead, then switched to the tenor part and is currently singing tenor with Capitaland Chorus and the Mad Caps quartet. Marilyn is recently retired having had a long career in the scholarly publishing field. She's happy to have found other singers who share her sense of humor/silliness.
Fran Pinto, formerly Stewarts' "hat lady," is a retired state worker, mother of two awesome daughters, and proud grandmother of Emerson and Annabella. A member of Sweet Adelines for over 30 years, and currently acting as an Assistant Director in Capitaland, Fran also served as a section leader and sings bass in both Capitaland and Saratoga Soundtrack choruses! In her spare time (and nice weather), she enjoys kayaking and riding her Indian Chieftain motorcycle!
Nancy Plaat, lead, started singing barbershop as a baritone in May 1978 as part of the Latham Circle Chorus, which then became the award-winning Capitaland Chorus. Nancy and Mark are proud grandparents of Adelaide, Ellanora, Seraphina and a brand new granddaughter. Nancy is a lead section leader and has been active in chorus administration - recently serving as treasurer and gig coordinator. She loves to perform and hopes that our "Mad Cap" style brings joy to audiences everywhere.
Niki Fillipone loves to sing, has three grown kids, and the very best of hubbies. She is also a proud "mummo" (a moniker bestowed by one of her grandchildren) to granddaughters Scarlet, Stella, and Opal Mae. She's always been a reader and enjoys working with kids of all ages, so it seems a natural fit that she worked as a K-12 Librarian in the Hoosic Valley School District for about eighteen years. She recently retired to pursue other interests, including singing!
---
Mad Caps quartet recently put together a virtual performance for a meeting of the Albany Women's Club, held over Zoom. It was titled "Meet the Mad Caps!" The quartet recorded videos to string together several songs into a full-length performance. Many rehearsals were invested in rehearsing and recording, and rerecording the selections. Videos were shared via YouTube with a few technical glitches, but overall it was a successful performance.