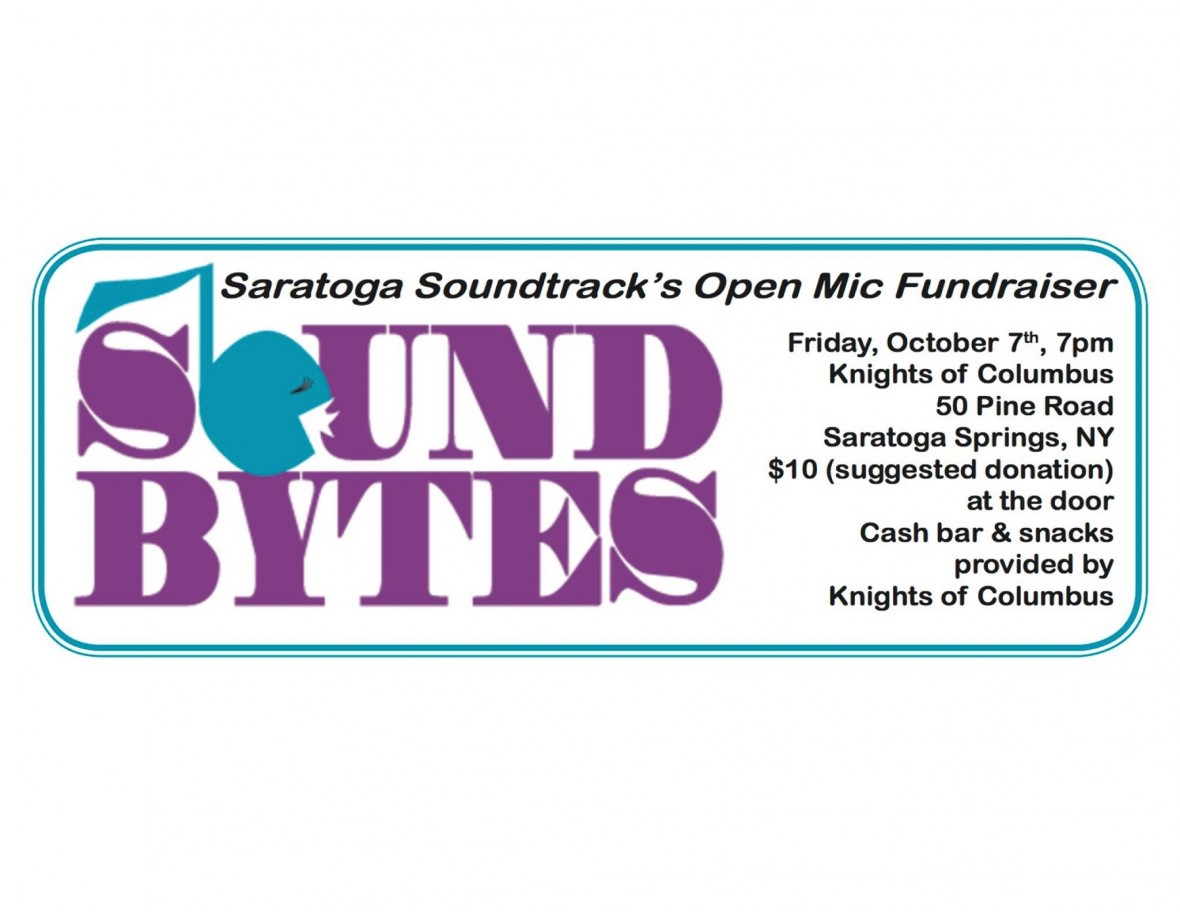 Soundbytes: A Stunning Success
For Immediate Release: 
Contact Person: Lee Gabrilovich, 
Performance Chair [email protected] 
Soundbytes: A Stunning Success
Saratoga Soundtrack Chorus' first Open Mic, "Soundbytes" was a marvelous mash-up of musical talents. Held on Friday, October 7, at the Knights of Columbus, the fundraiser showcased performers in a variety of musical genres and a spectrum of ages from high school seniors to senior citizens. The audience enjoyed a beautiful Adele solo, rocked to the sounds of a local garage band, danced to Take 2, was uplifted by Back to Three's message, and entertained by several Barbershop quartets from Saratoga Soundtrack, Capitaland, and Racing City Choruses, as well as Nancy Plaat & Mary McDonnell, Daniel Plaat, Freida Barton, Hopscotch, The Remnants, All In, Something Legendary, Jessica Vallee, Xstatic, Into Wishin', Rhythm Method, and Mo BoRhap.
Saratoga Soundtrack Chorus would like to thank the Knights of Columbus for their accommodations with refreshments; all of our participants; and our audience for making this such a successful venture. About $800 was raised at this fun event. Proceeds will enable Saratoga Soundtrack to compete at the regional level in April of 2017.
Saratoga Soundtrack Chorus is an award winning women's a cappella group, singing four-part harmony. Performing everything from standards and jazz to ballads and contemporary songs the chorus has been entertaining under the direction of the talented composer/arranger/director Nancy Faddegon since 2008. Their musical performance is visually enhanced through characterization and choreography. Through the years, this musical group has delighted local audiences at many popular events and venues: Congress Park, Saratoga Race Course, and First Night. 
Saratoga Soundtrack Chorus is a not-for-profit chartered chorus of Sweet Adelines International, a worldwide organization of women singers committed to advancing the musical art form of barbershop harmony through education and performance. SSC recently placed fifth in the Sweet Adelines Region 15 Greater NewYork/New Jersey. At the SAI competition held in Las Vegas Saratoga Soundtrack won fourth place in Division A (small choruses). 
Saratoga Soundtrack Chorus rehearses Monday nights at the Knights of Columbus on Pine Rd. in Saratoga Springs. For more information visit the website https://www.saratogasoundtrack.org or Facebook page -https://www.facebook.com/SaratogaSoundtrack.