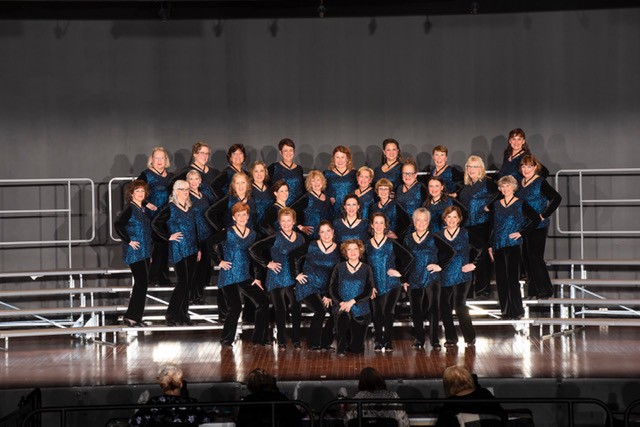 Saratoga Soundtrack Chorus Division A Champions
Saratoga Soundtrack Chorus Division A Champions
On Saturday,  April 13th Saratoga Soundtrack Chorus succeeded in capturing two medals at the Greater New York/New Jersey Region 15 Annual Convention and Competition, Sweet Adelines International held in Albany.  The chorus won first place in Small Chorus Division A (15-30 singing members on stage). Their score also awarded them fifth place overall in the  Region 15 Competition. Under the direction of Jenn Hunter, the chorus performed a musical package that included an energetic medley uniting "I Can't Give You Anything But Love" by Dorothy Fields and Jimmy McHugh, and
" L-O-V-E" by Bert Kaempfert and Milt Gabler. This piece showcased creative choreography designed by the choreo team.  The second song was an exquisite ballad "If You Love Me, Really Love Me," by Geoffrey Parsons and Marguerite Monnot.
Saratoga Soundtrack Chorus is an award winning women's a cappella group, singing four-part harmony.  Performing everything from standards and jazz to ballads and contemporary songs the chorus has been entertaining since 2008.  Their musical performance is visually enhanced through characterization and choreography.  Through the years this musical group has delighted local audiences at many popular events and venues: Congress Park, Saratoga Race Course, and First Night.
Saratoga Soundtrack Chorus is a not-for-profit chartered chorus of Sweet Adelines International, a worldwide organization of women singers committed to advancing the musical art form of barbershop harmony through education and performance.
Saratoga Soundtrack Chorus rehearses Monday nights at the Knights of Columbus on Pine Rd. in Saratoga Springs.