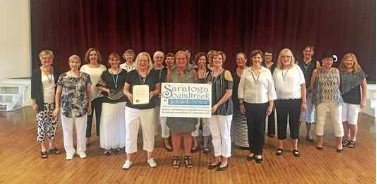 Saratoga Soundtrack Chorus receives proclamation
SARATOGA SPRINGS, N.Y. >> Mayor Meg Kelly honored Saratoga Soundtrack Chorus on Wednesday afternoon with a proclamation for its 10th anniversary.
The chartered chapter of Sweet Adelines International performed two songs at the Music Hall in City Hall. Originally the group of women were supposed to sing at the steps of City Hall, but the rain prevented that from happening. Kelly told the group she wants them to perform again, but at the steps on Broadway.
The chorus travels to various competitions. According to its website, its an organization dedicated to promoting the art form of barbershop harmony through education and performance, striving for excellence in musicianship and performance.